The Importance of Identifying Shell Companies
Financial institutions are required to put in place programs to detect and prevent money laundering. One of the most cited anti-money laundering (AML) red flags by government - over the last 18 months - to look for is the use of shell companies. With this in mind, does your institution have a program in place to identify shell companies in transactions? What about shell companies with identifiable sanctions and watchlist connections?
What are some approaches to identifying shell companies?
Shell company detection is an area that the team at Sigma360 has been focused on for while. While imperfect, there are a number of steps that can be taken to auto identify likely shell companies that include, but not limited to:
i) Formation date - is the entity a newly formed company
ii) Location - is the company located in a jurisdiction known for tax secrecy or sanction evasion
iii) Association with known shell companies - does it share other characteristics with known shell companies
iv) Line of business detection - can this be established and does it make sense alongside transactional records
v) Internet presence - is there self generated content and information on the entity
Financial institutions have a range of additional approaches at their disposal to identify shell companies, such as shared directors and recognition of known incorporation agents who have been linked to shell company operations in the past. These techniques can be employed by institutions to enhance their ability to detect and prevent money laundering activities and to identify potential sanction evasion or nexus.
Why is shell company detection critical?
Beyond regulatory obligations to detect money laundering, current geopolitical developments make identifying shell companies important from reputational perspective. Take the case of Maxim Marchenko, who the U.S. Department of Justice recently charged for money laundering and sanction evasion.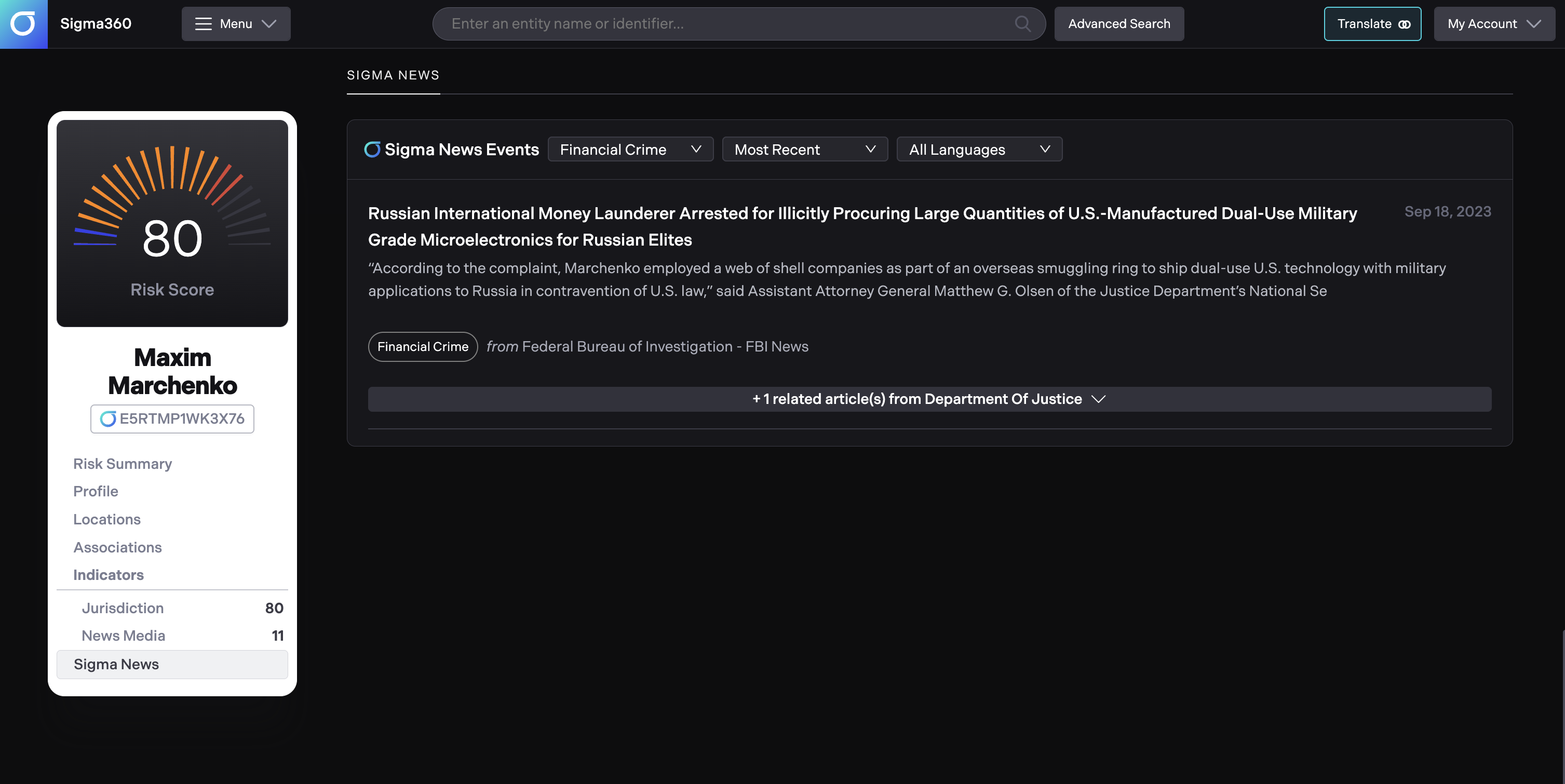 According to filings, Marchenko and his accomplices used a number of shell companies in Hong Kong to evade detection and procure and supply military equipment to Russia. The shell companies named include:

- Alice Components Co. Ltd. (Hong Kong)
- Neway Technologies Limited (Hong Kong)
- RG Solutions Limited (Hong Kong)

These entities present real risk - using the rubric above - from the perspective of potential shell company activity. Online reviews also support the nexus, via trade data, with Russia, which is tracks with the Department of Justice filings.
How can Sigma360 help?
Persistent Updates to Sigma's Core Risk Data
> 60 always on global sanctions list
Global political exposed person coverage
Global enforcement action coverage
Global Corporate Coverage
Global corporate registry and related corporate intelligence data
Identification of ownership and control where available
Where percentage ownership is not available, Sigma360 will also highlight high-risk associations including:


Direct and indirect entity ownership
Entity linkages to news and other sources of information
Related board members and related entities, including service providers
Relevant directors
Associated Risk Screening & Monitoring
Screen and monitor for association with sanctioned individuals and entities
Configure to screen and monitor against others Sigma risk indicators
Real-Time Unstructured Data Coverage
Exhaustive coverage investigative sources, including ICIJ, OCCRP and others
> 220,000 global sources covered for adverse media across > 50 languages
Proprietary Data Attributes
Global high risk addresses linking companies to sanctioned entities and individuals
Global high risk corporate service providers and associated directors
Graphable unstructured data extraction from key reporting agencies
Global Country Risk Coverage
200+ countries and territories covered for financial crime risk
Dynamically updated annually as covered risks change
Configurable Risk Taxonomies
Fully configurable platform including scalable scoring, addresses, countries, entities, individuals or vessels
To see Sigma360 in action, book a demo.