Using NAICS codes for more effective AML
One of the most important factors for knowing your customer (KYC) in commercial relationships is evaluating the business line of a potential client, including any entity's related to your client. In other words, what do they do?Sounds simple, yet analysts spend significant time scouring search engines and using other manual processes to determine the Line of Business so they can evaluate risk in onboarding records or transactions.

Manual searches to establish or validate an entity's Line of Business create obvious organizational inefficiencies and added costs for onboarding and anti-financial crime teams. What's more, it's difficult to know if a customer's Line of Business has changed between periodic reviews, which can leave organizations vulnerable to risk.
The good news is that this process can largely be automated using one of Sigma's latest platform features: automated Line of Business search.
Search 1: Las Atlantis (Casino)
Take, for example, a name that is not entirely clear in terms of Line of Business, like Las Atlantis. In this case, knowing that this entity is involved in gambling activity is something that you may evaluate as part of your business relationship. Validating the business line, both at the point of onboarding and on an ongoing basis, is essential to robust KYC and complying with regulatory guidance on client risk scoring.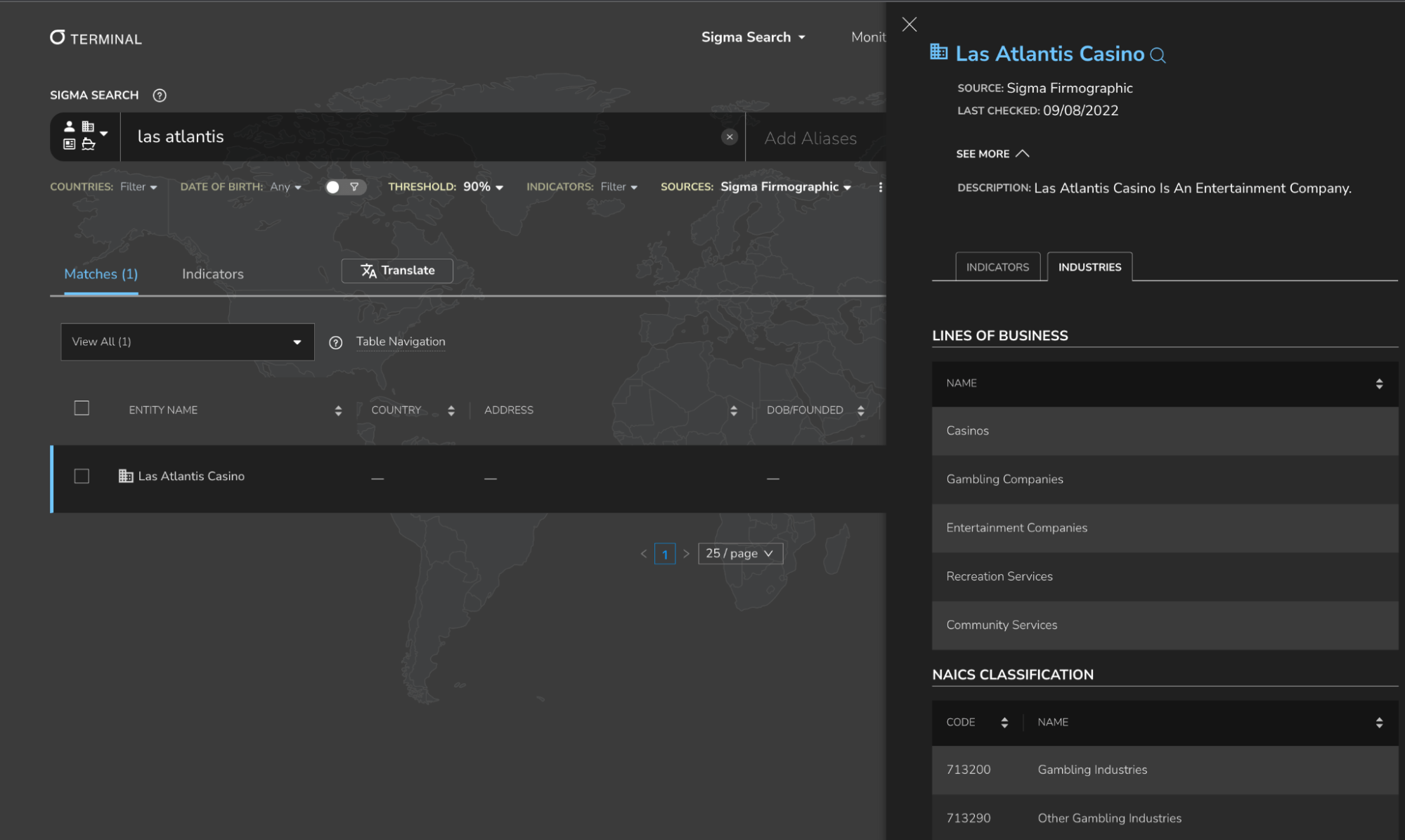 Search 2: PharmaCann LLC (Cannabis-related business)
Sigma's clients in financial services typically need to conduct added due diligence steps on cannabis-related businesses. PharmaCann LLC is an identified cannabis business in Colorado. Judging by the name alone, their involvement in cannabis may not be immediately clear.

Sigma can instantly identify PharmaCann LLC as a cannabis-related entity under the Line of Business section. This can be done at scale during new customer onboarding or on a periodic basis.
Search 3: Matter of Instinct (Barbershop)
Similarly, based on Line of Business, you would not expect a barbershop to be sending or receiving millions of dollars internationally. From the perspective of what is reasonable, this would warrant a deeper review.

The Sigma return on searching "Matter of Instinct" quickly highlights that the business is located in New York City and is likely a barbershop with NAICS code 812100, among other codes relevant for their business.
Tying together transactional information with Line of Business can help your organization avoid unnecessary risks. Sigma can also tell you if there is a weak Internet signal around any business's geographical location, which is a flag for potential shell company activity.

Search 4: Bulk Uploads
To alleviate manual processes and lookups, Sigma's Line of Business functionality works for one-off searches as well as bulk uploads. For monitored entities, bulk Line of Business screening allows you to setup alerts to be triggered if there are any changes to Line of Business.
Establishing a Line of Business for who you are working with is critical for a range of KYC and anti-financial crime requirements. It's relevant for investigations, at the time of onboarding, and as part of periodic or perpetual reviews. Through automation, organizations can cost-effectively review NAICS codes and easily layer Line of Business data points into existing workflows.
If you would like to learn how Sigma automates Line of Business and NAICS codes detection for more effective AML, please book a meeting with our team.