The FinCEN Files: Address Risk
With the release of the FinCEN Files, what was a common denominator related to an international money laundering network, sanctioned in September 2015, that laundered billions of dollars for the world's biggest drug cartels and armed groups, including the Taliban and al-Qaeda?
We now know that between March 2013 and April 2014 a key node in the syndicate, Mazaka General Trading, was "sending and receiving money from British firms located at 175 Darkes Lane, one of the world's most notorious addresses for shell companies, which are a common tool to hide ownership."
175 Darkes Lane, which was profiled by the BBC yesterday and still contains dozens of active companies according to Sigma Terminal, was highlighted by Sigma Ratings, Inc. in this piece from October 2019:
Darkes Lane
ORGINAL PUBLISHED OCTOBER 4th 2019 by Hamad Alhelal, CAMS
When strolling through Potters Bar, a nondescript town in Hertfordshire, England, there isn't much to notice beyond the unassuming businesses that line Darkes Lane. Located right above an optician, and sandwiched between the branches of Natwest and HSBC, is Suite 2B at 175 Darkes Lane. Notably, Suite 2B is the registered address of hundreds of businesses, many of which exploit opaque corporate structures. One of those companies, Metastar Invest LLP, along with 3 other UK registered companies, formed the core of $2.9 billion 'Azerbaijani Laundromat'. Ironically, the money flowing through the four companies was approximately 6 times as much as the annual amount processed by the two bank branches located on either side of it. However, Darkes Lane is not an isolated case.

In an investigation by Transparency International, their research identified 766 UK corporate vehicles alleged to have been used in 52 large scale corruption and money laundering cases approaching $100 billion. Notably, around half of the 766 companies alleged to have been involved in high-end money laundering were based at just eight UK addresses!

As shell companies remain a fixture of global illicit finance, the ability to detect potential shells through their use of these addresses appears to be one of the most effective ways to combat illicit finance. With an unquantifiable number of shell companies around the world, the next laundromat could be residing in any of the nondescript buildings we regularly walk past.
Below is a screenshot of the Open Search results from Sigma Terminal detailing risk indicators for an entity called 'Inlord Sales LLP'. The results show 2 Severe Address Risk Indicators for 175 Darkes Lane, 1 Severe Operating Risk Indicator and 2 Minor Adverse Media Risk Indicators.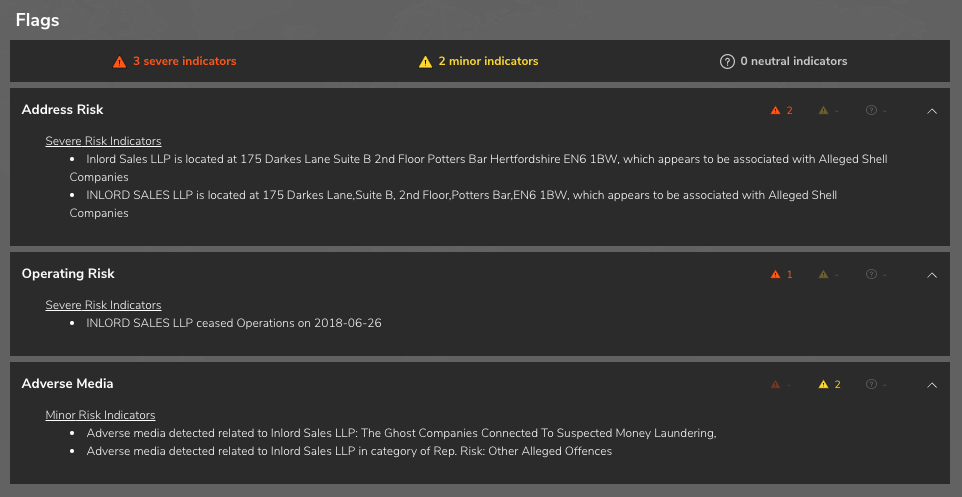 For a personalized demo about address risk and other risk indicators identified by Sigma Terminal please reach out to us at
info@sigmaratings.com
Sincerley